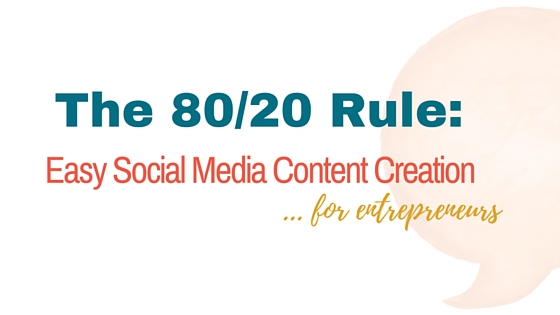 As a business owner with limited time and resources, I'm not a fan of wasting time on social media. I like to be efficient and effective. This means I want my social media efforts to have a direct ROI… meaning, .
Yes, social media is also about relationship building, building visibility, showcasing your expertise, and so much more. But at the end of the day, it's about strategically setting yourself up for long-term success. Which means making money.
The strategy I use is called the 80/20 rule. Have you heard of it?
The 80/20 Rule Defined 
The 80/20 rule is a fairly common marketing ratio… but I like to use it in social media like this:
80 percent of your content should be helpful and insightful – Let's call this the "other" category.
20 percent of your content should be about your business or you – Let's call this the "self-promotion" category.
Let me explain.
For simplicity's sake, let's say you have 10 social media posts per week.
8 posts fall in this "other" category
2 posts fall in the "self-promotion" category.
Why is the 80/20 rule important?
Following the 80/20 rule simplifies your social media content. It makes it easier to plan your social media in advance. You'll know ahead of time exactly what type of content needs to be published to your social media platforms. With this knowledge, you can then become super organized and strategic about content creation… but more about that in another post.
80 percent of the time you should:
Provide value
Be helpful
Share your knowledge
ENGAGE!!!! — Magic happens here because you're building 1:1 relationships
Listen – What do people need help with ? what are their struggles? Interests?
Your 80 percent content is extremely important, because this is where you're getting a pulse for what's happening online in your industry, getting doses of daily inspiration, and putting out those antennas for opportunity.
When Opportunity does come a knockin', you'll be organized and networked enough to take action.
Let me give you an example:
A few years back, I was creating social media content for a wine company and engaging on their behalf. One day, I saw a social media theme day was going to pop up in a few weeks… something I only would have known because I was engaging and listening on social media (another reason why having a social media content plan is helpful and pays off in a big way!). I spoke with the company, and together, we decided to tackle this theme day in a big way. It took a few short days to coordinate a sale, create and schedule social media content with the sale alert (which falls into the 20 percent "self promotion" category I outline below), and draft email alerts to current clients letting them know we were having a HUGE wine sale and details could be found on their social media channels.
Flash forward to the day after the sale… thanks to the combined efforts I outlined above, the company sold $15,000 worth of wine in a single day! 
How's that for content success?
It's about having systems in place to set you up for short and long term social media success.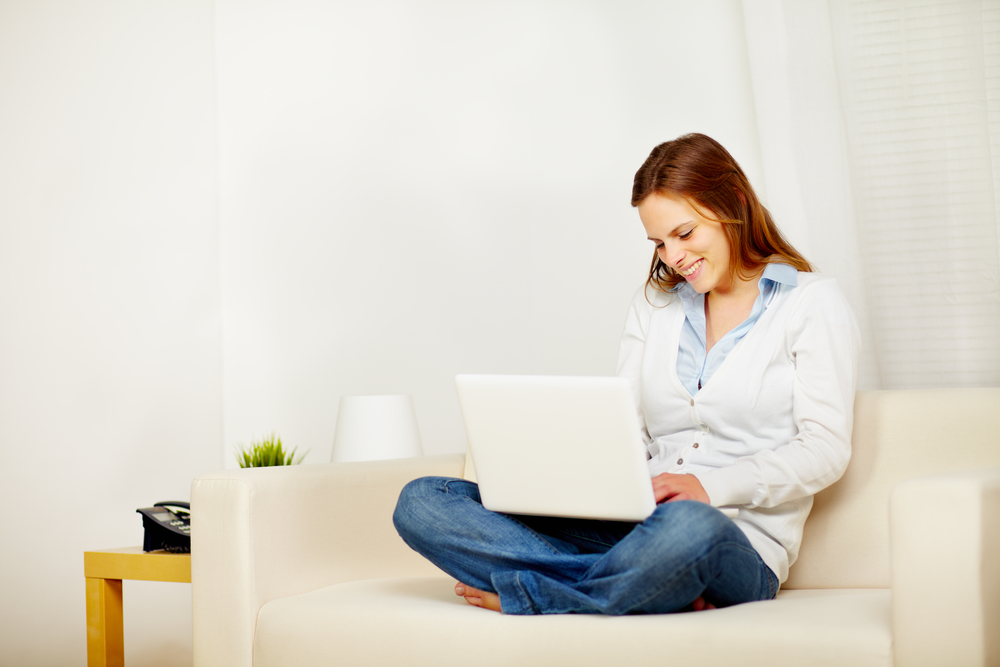 Here's the thing: You can make money on social media whether you're a multinational corporation or a laptop entrepreneur who works alone from home.
In fact, I'd say laptop entrepreneurs actually have an easier time making money on social media?
Why? You can immediately implement easy systems and create content you know will push your business into the money-making zone…. all without the massive checks and balances of a giant company. Cool, right?
Now let's talk purely promotional content…
20 percent of the time you should:
Place your audience in a sales funnel
Be about your business
Promote your business
Help you to grow your email list
If you aren't outright promoting on social media at least 20 percent of the time, you're wasting your time on the platform.
Now, self-promotion and precisely how much you can get away with direct promotion can vary significantly for each platform. It all depends on the platform's culture and social norms. I just wanted to throw that out there… because sometimes you can get away with self-promotion a lot more than 20 percent of the time! 😉
(Visited 300 times, 1 visits today)