Are you ready to get the biggest bang for your social media buck?
Let's say you've written a blog post. Most people post it to Facebook and maybe send a tweet or two over the next couple of days. Then it never again sees the light of day.
What if I told you there's a way to get way more mileage out of one blog post?
It's simple and will save you tons of time, so let's get started and I'll show you how this works.
As an example, I'm going to take my recent blog post Gaining Clarity: How to Easily Move Past Social Media Overwhelm and turn it into 5 social media headlines.
Here's the post: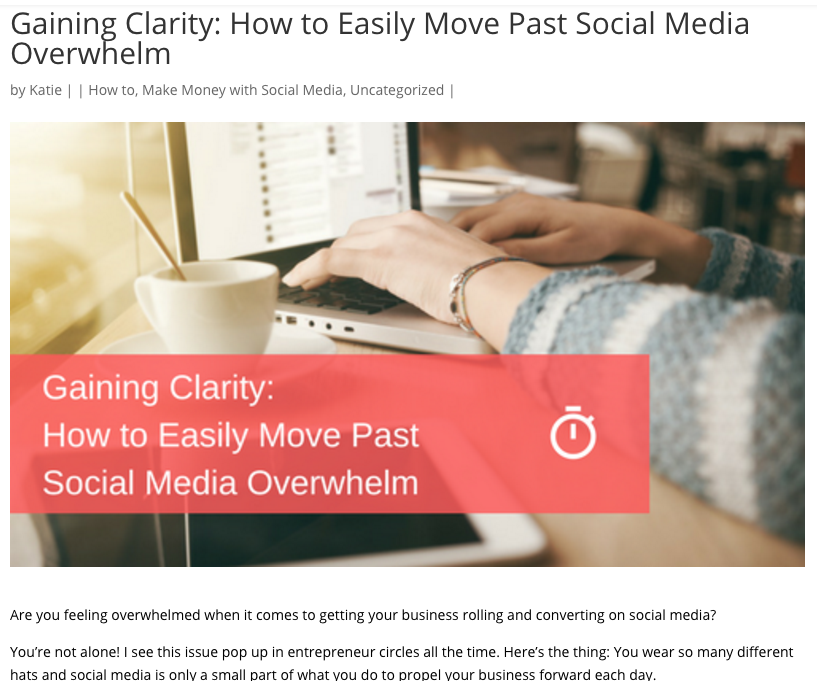 Here are the types of headlines we will create:
Teaser text + blog post link
Quotes
Quote on photo overlay
Tips or how-to
Tips or how-to + blog post link
Let's look at each one of these headline types and create the posts.
For the purposes of this example, I'm going to prepare these headlines for Facebook. Please note that you can apply the same strategy for any social media platform, just be sure to follow the character limits and platform etiquette.
1. Teaser text + blog post link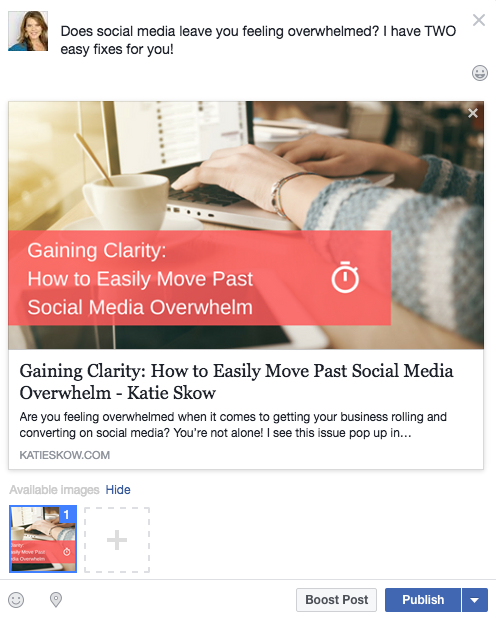 This is an easy post. All I had to do was write enticing lead-in text and copy/paste the blog URL.
2. Quotes

You can copy/paste your favorite sentence from the blog post and turn it into a quote. If you don't have anything quote worthy, put one together based on helpful content. I didn't add a URL here because I want to provide value without always asking for a click. This is a fast and easy way.
3. Quotes on Photo Overlay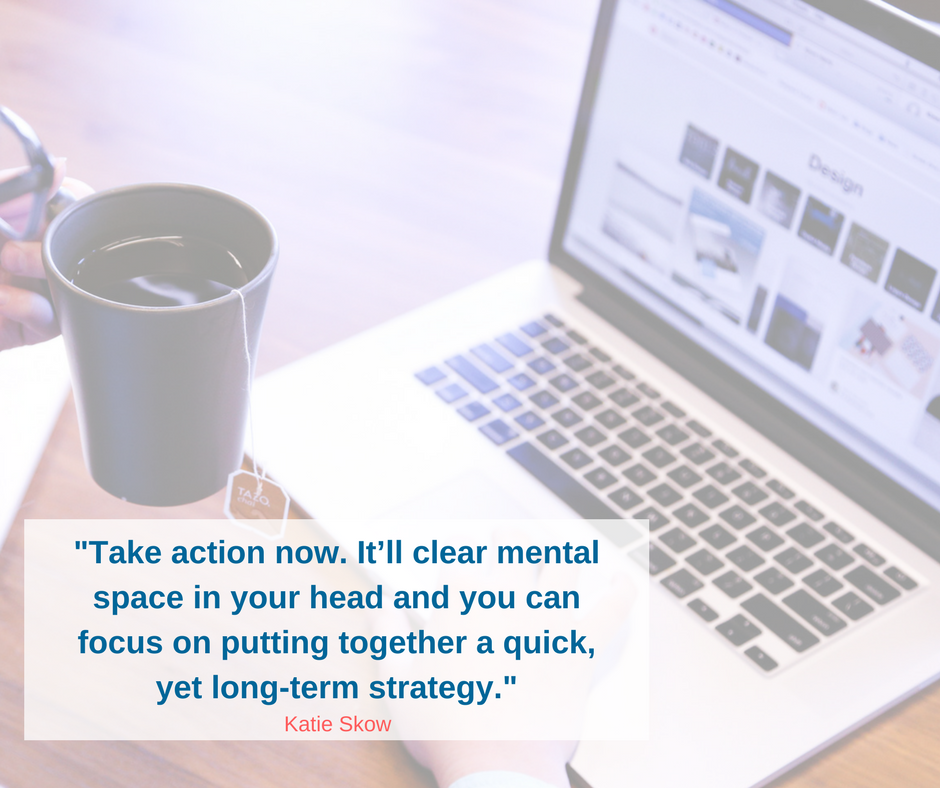 I took the same quote from our other example and added it as a photo overlay.
4. Tips or how-to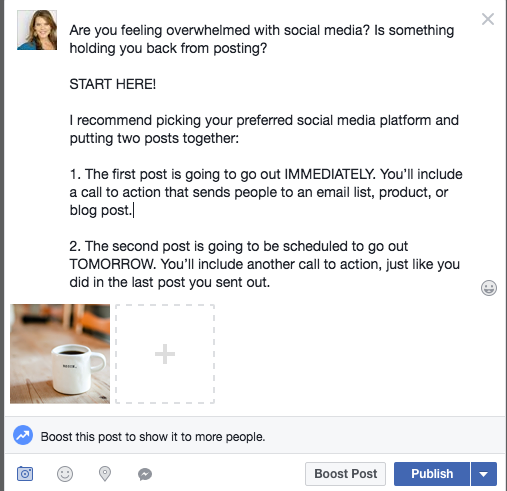 I copied and pasted material from the blog post then did a bit of formatting so it makes sense for a stand-alone social media post. Again, this is a value added post and i'm not asking for anything in return. I simply want to educate.
5. Tips or how-to + blog post link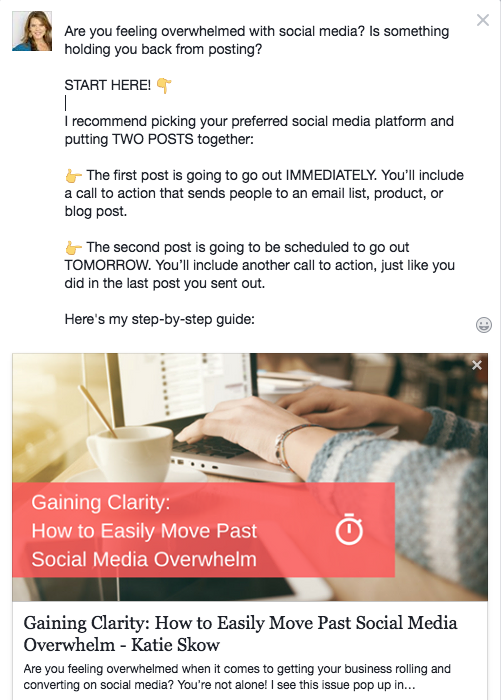 I took the same post as in our last example and added a few emojis so the text stand out more. Then, I added the blog post link.
BONUS TIP: Want to keep sending these blog posts over and over again? Either use a platform like MeetEdgar to recycle these social media posts forever, or schedule far into the future using a platform like Hootsuite.
Here's a list of my favorite social media schedulers for each platform including Facebook, Twitter, Instagram, LinkedIn, and Pinterest. 
---
PS- Are you a busy entrepreneur trying to pull your social media together without any help?
I have something for you!
I recently launched a Quick Start program for new entrepreneurs looking to QUICKLY get their social media into shape in 35 minutes. If you're looking for a straight-to-the-point solution to move past this overwhelm… this program can have you all set up on social media with PERFECT CLARITY by the end of the day.
I've trimmed all the excess and only provide you with EXACTLY WHAT YOU NEED TO KNOW to get your social media quickly up and running. Within minutes you will:
Set a clear goal (who wants to be pulling in more $$?!)
Identify your perfect client and where you need to reach them on social media
Have a strategic plan that feeds directly into your goal
Create content that stands out and gets noticed by your perfect client
Have automation ready to roll
Does this sounds like something you'd be interested in? Yeah, I thought so! Click here for all the details.
Also, because this course is BRAND NEW, I'm offering the first people to sign-up a $15 discount. The offer is only good over the next few days. When you purchase, simply use the code: EARLYBIRD15
(Visited 378 times, 1 visits today)