Are you feeling overwhelmed when it comes to getting your business rolling and converting on social media?
You're not alone! I see this issue pop up in entrepreneur circles all the time. Here's the thing: You wear so many different hats and social media is only a small part of what you do to propel your business forward each day.
If you're feeling overwhelmed, I have two ways to solve the issue. The first is an immediate fix and the second is a quick, long-term solution.
Here we go…
The Immediate Fix to Solve Social Media Overwhelm
Take Action Now.
If nothing is happening on the social media front, the first thing your business can do is to TAKE ACTION and POST IMMEDIATELY.
I recommend picking your preferred social media platform and putting two posts together:
The first post is going to go out IMMEDIATELY. You'll include a call to action that sends people to an email list, product, or blog post.
The second post is going to be scheduled to go out TOMORROW. You'll include another call to action, just like you did in the last post you sent out. 
Once you have those posts out, it'll clear mental space in your head and you can focus on putting together a quick, yet long-term strategy.
The Quick, Long-Term Solution to Solve Social Media Overwhelm.
Create a Plan Now. 
Here's the thing. We're going to make this a fast solution that doesn't take up too much of your time.
You might be feeling overwhelmed with where to begin or what you're supposed to do to market your business on social media. But it's time to focus for a few minutes and TAKE ACTION.
Here's what you need to do:
Have a goal.
Once you create a goal, you realize that you suddenly have laser focus. All of your energies on social media are now focused on reaching your goal. The rest is fluff and a waste of time.
Know your audience.
Once you know who it is you're targeting, you can direct all of your energy into creating social media content to reach and appeal to your perfect client. And, you don't need to waste your time worrying about multiple platforms. Anything that doesn't directly speak to this ideal, perfect client can be cut out.
Create a strategy.
Your strategy will outline precisely how you will reach your goal. A lot of times, it helps to work backwards when creating a social media strategy for your business. Once you have a strategy in place, everything looks and appear simple. 
See how having a goal, knowing your audience, and working with a strategy all come together? Once you have these elements in place, you have laser focus and your overwhelm turns into clarity.
PS- A heads-up because as an entrepreneur, I know we're all pressed for time…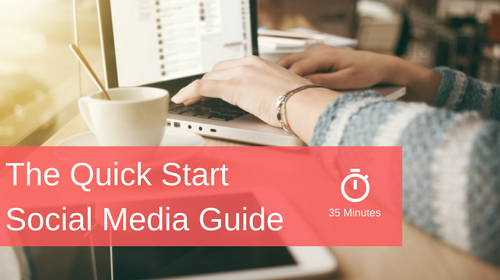 I have just launched a Quick Start program for new entrepreneurs looking to QUICKLY get their social media into shape in 35 minutes. If you're looking for a straight-to-the-point solution to move past this overwhelm… this program can have you all set up on social media with PERFECT CLARITY by the end of the day.
I've trimmed all the excess and only provide you with EXACTLY WHAT YOU NEED TO KNOW to get your social media quickly up and running. Within minutes you will:
Set a clear goal (who wants to be pulling in more $$?!)

Identify your perfect client and where you need to reach them on social media

Have a strategic plan that feeds directly into your goal

Create content that stands out and gets noticed by your perfect client

Have automation ready to roll
Does this sounds like something you'd be interested in? Yeah, I thought so! Click here for all the details.
Also, because this course is BRAND NEW, I'm offering the first people to sign-up a $15 discount. The offer is only good over the next few days. When you purchase, simply use the code: EARLYBIRD15
(Visited 72 times, 1 visits today)