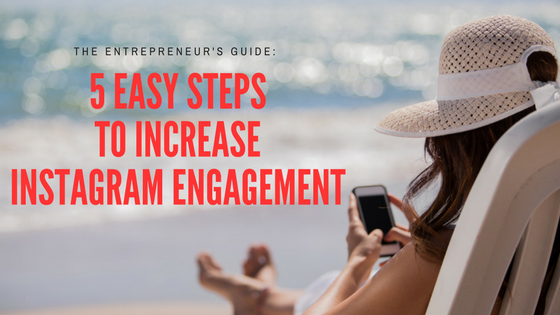 Increasing Engagement on Instagram isn't rocket science, although there is a secret algorithm. While nobody outside of a select few at Instagram have the keys to that code, I do have a fail-proof method for increasing engagement on your own Instagram account.
Instead of worrying about how to beat the elusive algorithm, however, I find the best way to increase engagement on Instagram is to be human and network like you would in real life. In other words, value relationships and build a solid foundation that will lead to reciprocal engagement on Instagram.
How do you do this?
The process is easy and I've simplified it into five easy steps. Grab a pen and paper or open a Word document on your computer.
Let's get to work!
Here's what you're going to do:
Step 1: Make a List of Key Instagram Contacts
As I mentioned, you're going to be networking just like you do in real life. Only this time, it's on Instagram and you'll be making yourself known and driving engagement by commenting on key accounts.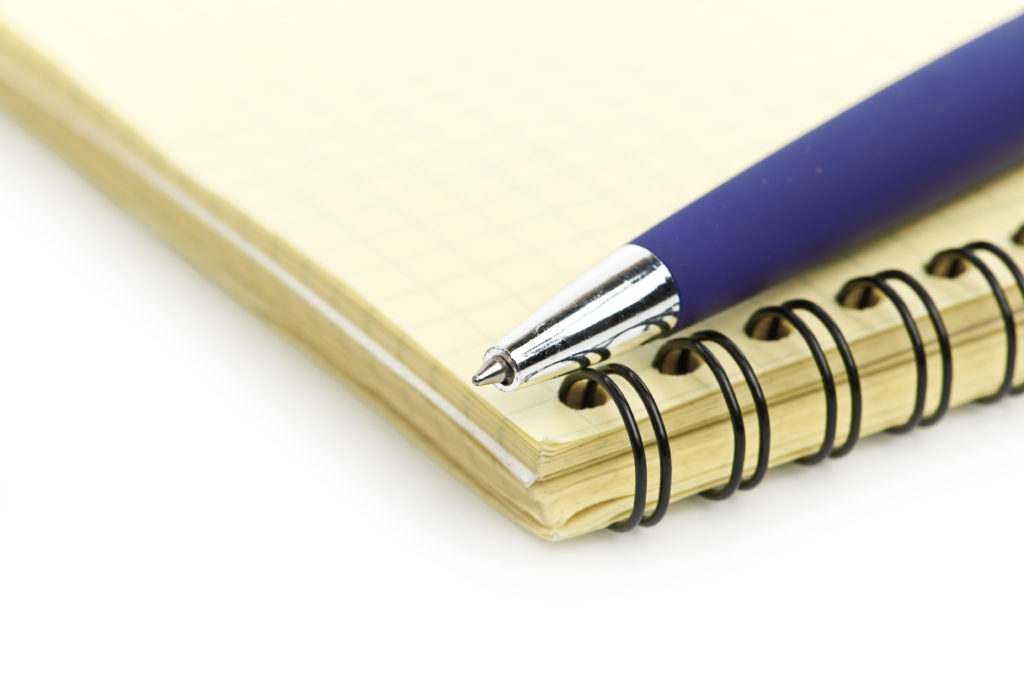 The objective? As they say… what goes around comes around. Do this and people will start engaging with your account.
Let me preface this by saying: There's a lot of automation happening (people who schedule, but don't engage or those who use robots to comment on and like posts). The key is to make sure your list of key contacts are actually using Instagram on a regular basis.
How do you know if they're regular users of the platform? Here are some tell-tale signs:
They respond to comments on their own photos in a timely manner.
When you follow someone, you can see their activity on the platform, like this: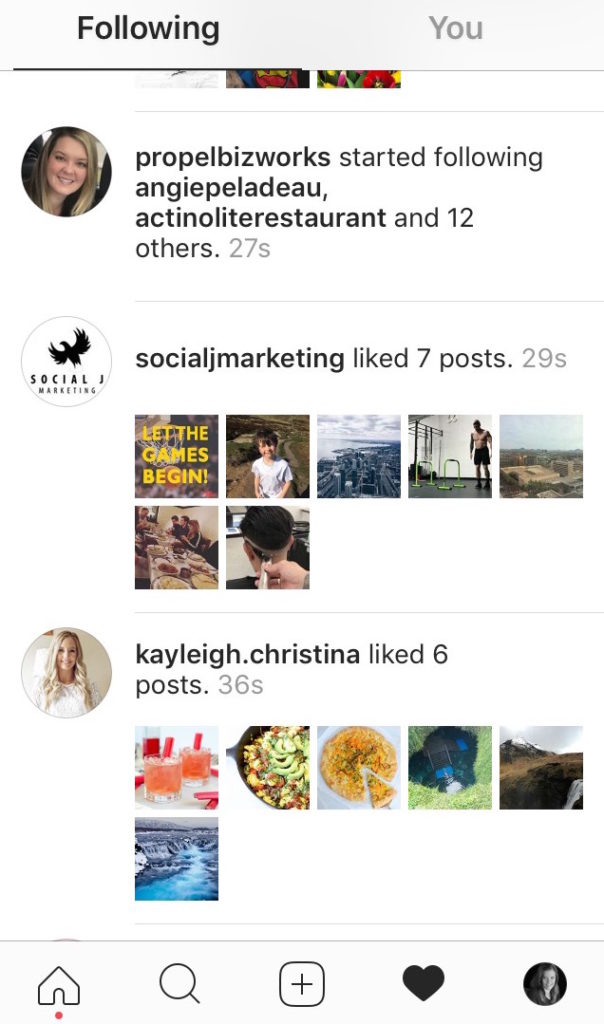 One of the things I dislike about Instagram is the inability to create lists or separate your favorite people from the riff-raff. How do you get around this? The manual way. You create a list.
Here's How to Create Your Lists:
Here are the basics to get you started (and remember, these all need to be active Instagram users!).
Make a list of:
15 Movers & Shakers: These are the people who are influencers in your industry and are already connected with what you'd consider your perfect clients.
15 Perfect Clients: People who you know are the perfect fit for your products and services, they just need to know you better!
10 Industry Hashtags to Follow Regularly: Research key hashtags for your industry and make a list of your favorites and/or perfect client favorites.
Looking to save time? I've created a handy download to help you keep track of your Instagram lists!
Now that you've created these lists…
You should have 30 Instagram accounts and 10 hashtags listed.
It's important to mention this isn't a permanent list. In fact, you'll always been adding and subtracting from the list. If you leave 3 different comments on an account, for example, and don't receive a response from the account owner, it probably means you should scratch that Instagram account off your list and add another.
Also, as people comment on your account, you should add their names to your own list and make it a point to reciprocate and build a relationship.
This is the beginning of building solid, long-term business relationships!
Once again, here's the link to download the list to make your life so much easier: 

Now on to the next step.
Step 2: Create an Instagram Commenting Calendar.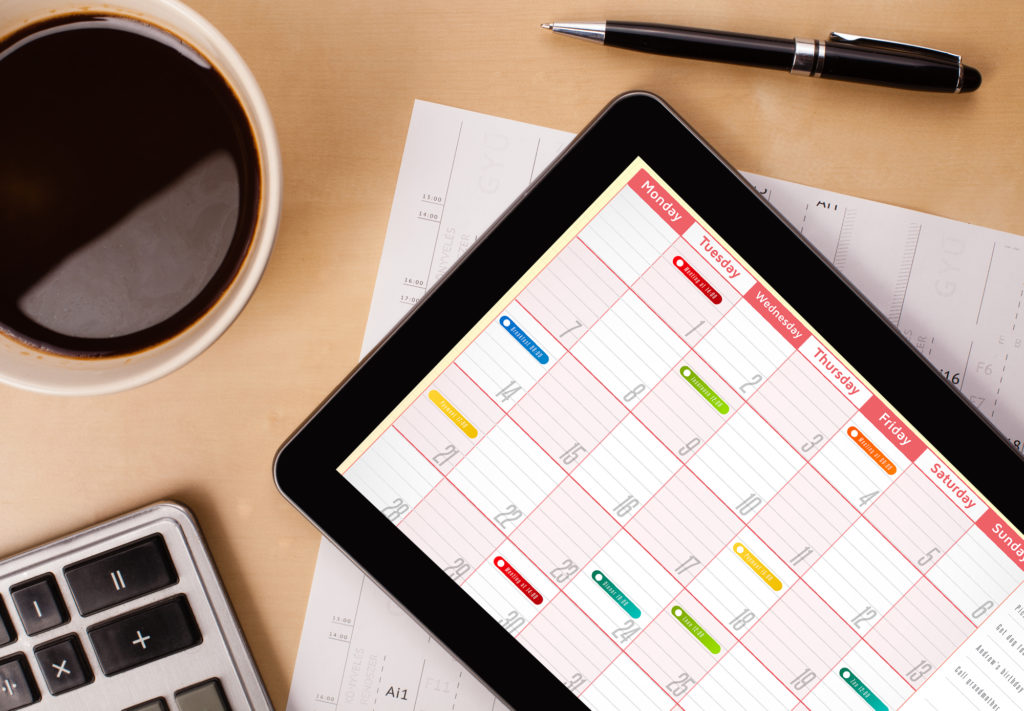 Now that you have your list, it's time to divide and conquer daily. A list of 30 Instagram accounts and 10 hashtags means you should be commenting on 8 Instagram accounts daily, Monday through Friday.
Put it on the calendar! You can make a note in your online calendar or put a reminder on your phone. Each day, you're going to pick 8 of these accounts and leave incredible, insightful comments.
Don't forget to set aside time to respond to comments on your own images! And, of course, add some of these people to your own Instagram list.
Step 3: Follow These Commenting Rules for Instagram
It's easy to post an image on Instagram with a handful of hashtags and receive a dozen comments on your photo. Often, you'll get a generic thumbs up emoji or a "cool pic" comment. For these uninitiated, I'll give you a heads-up: These aren't real people posting or looking at your image. They are called bots and it's an automated service you purchase from a third-party.
Bots are against terms of service on the platform and you could have your account shut down, without warning, if you are caught. Not only that, but it's a total waste of time if you want to build genuine relationships.
Ok, now that I've given you a clear warning about the use of bots, let me show you how easy it is to stand out with comments in 3 easy steps.
In your comment, demonstrate you've seen the photos and read the text.
Use five or more words.
Tag the person in your comment.
Here's an example of a good comment (and notice the person running this account responded to my comment, which means they're engaged… a good account to add to my list!):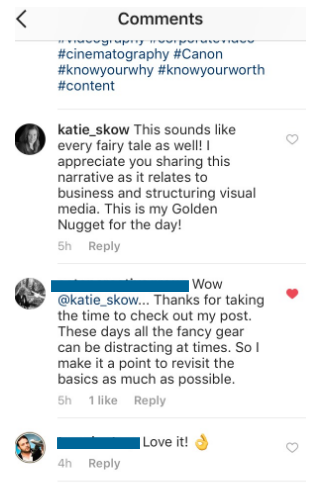 Then I followed up again (that extra effort can make all the difference when it comes to relationship building!):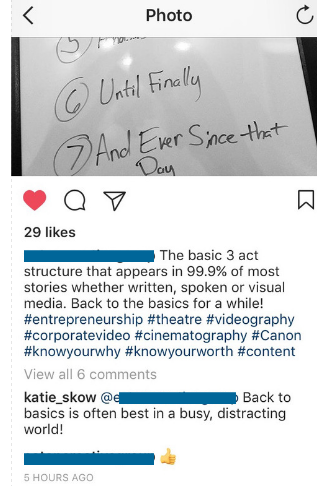 Step 4: Create Your Own Consistent Content for Instagram
One of the biggest headaches small business owners face is creating regular Instagram content. If you're disorganized or trying to post daily, it can be a real headache. Here are some tips I have to help you create your own consistent content.
Don't try to create your own images if it's a headache, you can purchase affordable photos from a site like DepositPhotos.com. Just make sure you double check the terms of use for whatever photo you use!
Batch content for an entire week.
Step 5: Have Calls to Action on Your Instagram Posts
Sometimes you have to tell people what you want them to do after consuming your content. Here are some examples of ways you can do this on Instagram:
"Click on the link in the bio…" Can be a good tagline for promoting a website link or blog post.
"Double tap if you like…" Is a handy way to get more likes on relatable content.
"Comment YES to…" Could be a good way to further the conversation with those who are interested in your post and/or offer.
(Visited 225 times, 1 visits today)