Scheduling your social media posts are a surefire way to get your content out into the world while growing your visibility, providing valuable content, and ultimately making more money. Because, of course, that's what business is all about… the bottom line.
But how do you schedule your social media? You're probably aware of a platform or two, but I find many new entrepreneurs are (understandably) overwhelmed at the thought of figuring out which scheduler will work best for business. This is a question I get asked by both new entrepreneurs and established companies all the time. So know this: If you're wondering how to best schedule your social media, you aren't alone. I get asked this question all the time by both new entrepreneurs and established businesses!
So here's the deal. Because there are dozens, if not hundreds, of scheduling platforms out there, I can only give you the lowdown on which ones I've personally used and would recommend. As always, I like to cut the fluff and save you time.
This post applies to scheduling content to: Facebook, Twitter, Instagram, LinkedIn, and Pinterest.
Here's a shortlist of my favorite social media scheduling platforms, both free and paid:
FREE
HOOTSUITE:
When you sign up for the FREE Plan, the service will allow you to add up to THREE social networks.
You can use Hootsuite to schedule posts to the following social networks: Facebook Profile, Facebook Page, Facebook Group, LinkedIn Profile, LinkedIn Group, LinkedIn Company, Twitter, Google+ Page, Google + Profile, Instagram, and YouTube.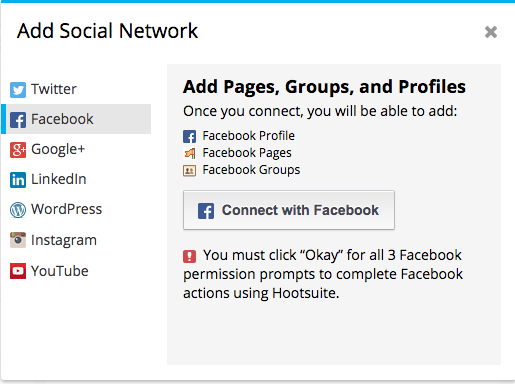 If you need to schedule to more than three social networks, upgrading your plan is inexpensive. 
They currently offer a free 30-day trial.  
My Take: Affordable pricing combined with ease of use are two reasons why I like to recommend Hootsuite. I've used this over the years for client content and to schedule my own social media content to Twitter, Facebook, LinkedIn, and Google+.
I personally find their Instagram scheduler a bit clunky to use and don't personally recommend this Hootsuite feature.
PLANOLY:
Speaking of Instagram, I think Planoly is one of my favorite scheduling platforms for this social media platform. There's a basic plan that's free that allows you to schedule up to 30 posts per month. Or, for around $7 per month, you can upgrade and get access to a few more services to make your life easier.
Auto scheduling is against Instagram terms of service and thankfully Planoly won't be getting you into trouble. Here's what happens: You post your photo, write your text, add hashtags, and then schedule a time you'd like your post to go out. Be sure to download the Planoly app to your phone because when it's time to post, Planoly will send you a push notification and then it'll walk you through a quick copy/paste process to get your content on Instagram.
My Take: The user interface is an excellent way to plan your Instagram content if you're committed to building a visually stunning Instagram feed. The push notification thing can be a pain, but it's a necessary evil to avoid the risk losing your Instagram account. It's a tiny learning curve, but once you learn the process, it takes about 30 seconds to get your post out into the world.
FACEBOOK PAGE – BUILT-IN SCHEDULER:
Many people don't realize they can post to their Facebook page for FREE. That's right, you don't need a third-party scheduler if all you want to do is schedule content to a Facebook Page. Currently, this option is only available on Pages (sorry, no profile or group scheduling directly from the Facebook platform… yet!).
Here's how you do it: Simply insert your text/photo/video/link as you do when you are going to post to your Facebook Page. Then, instead of hitting the "Publish" button, you click the little dropdown arrow to the right and select "Schedule." Follow the prompts and you're good to go!

My Take: If all you want to do is schedule on your Facebook Page, the build-in scheduler is the way to go! However, if you're the type of person who likes to go back to proofread and make changes later, I have sometimes found weird things happen like photos disappear. Because of that issue, this option doesn't really work for me personally and I must warn you to use at your own risk!
PAID
TAILWIND:
If Pinterest is your sweet spot on social media, Tailwind is the app for scheduling your pins. The platform also has an Instagram feature, but I haven't used that feature yet. There's a free trial period in which you can schedule 100 pins to Pinterest for free. After that, the Plus Plan will put you back about $10 per month.
My Take: If you're committed to Pinterest, this is hands-down the best tool to keep you organized and pinning.
MEETEDGAR:
If you're looking to save time and energy when it comes to scheduling social media content, MeetEdgar, by far, is my favorite scheduling platform. It allows you to put content in once and will recycle it for you non-stop. For example, if you put in 10 posts to go out under a specific category Tuesday morning, it'll start from the beginning of your list on week 11. At least that's the gist.
Unfortunately for many new entrepreneurs, it comes with a price tag attached that can be tough to swallow when you're just starting out and every penny counts. It's now $79 per month.
MeetEdgar will schedule posts to: Facebook Profile, Facebook Page, Facebook Groups, LinkedIn Profile, LinkedIn Page, and Twitter.
My Take: If your business is dedicated to using social media as a strong marketing tool and you're at the point where your business can afford the monthly fee, I'd say go for it. It's a real time saver! I think a few other companies are starting to pop up to compete with Edgar, so you might want to do a bit of research to see what they're offering before committing to this price tag.
I hope you found this list and my take on each scheduling platform helpful. I'd love your feedback and to know which social media scheduling platform you use and recommend!
PS- Summer is just around the corner and many of you are already starting to plan vacations. Or, most likely you have already booked your trip for the summer.
If so, have you given thought as to how you're going to keep your social media business accounts rolling while you're away? As you know, consistency is key in business!
If you're feeling stressed, worried, or wondering how you're going to keep your social media efforts on track while you're away… I can help. I'm an expert (a true expert!) in this area.
With almost a decade of professional social media experience under my belt, I've traveled the world while not missing a social media beat for my clients. In fact, many clients never would have known I wasn't "in the office" if I hadn't told them! I've hiked the mountains of Switzerland, explored New Zealand, soaked in Japanese hot springs, enjoyed scenic car trips across the US, and cycled part of the Pacific Coast of the United States. All of this while consistently keeping up with their social media accounts!
I've showed you my favorite scheduling tools, but if you're interested in learning more about how I plan out everything ahead of time to enjoy my time on vacation… I'll be dropping all the information into a virtual workshop I'm hosting on June 1st!
The workshop is called Holiday Time! How to Automate Your Social Media While on Vacation.
Here's what you'll get:
My very own guide to keep your business running on social media while still getting results
Precisely how to automate your social media content while on vacation
The best types of content to post while away from your computer
How to avoid a potential social media nightmare
Time-saving travel tips for checking in on social media
Best practices for working ahead so you can enjoy your time
How to know and plan your online connectivity before you leave
Relax! This workshop has you covered! I'm offering a pre-launch price of $37 for the first 10 people to sign up! Get in now and on June 1st, the content will be automatically available to you. Find out more…
(Visited 341 times, 1 visits today)